An old printing press in the middle of nowhere A rural printing press
When Erika's Heidelberg gets to work, an ancient dance begins. Copies come out at a rhythmic rhythm, one after the other. It smells like freshly mixed ink. Everything takes you to the Gutenberg Era, to that technique that revolutionized life from the fifteenth century. This 70-year-old Heidelberg has revolutionized the life of its owner.
Erika Pena is a graphic designer. Together with Álex, her partner, she decided five years ago to live in the middle of nowhere, in a wonderful house with views of a landscape of fruit and olive trees reached by winding roads. "They are actually paths. It's the B side of this kind of life, but it's worth it. I have wanted this life in the country since I was little" says Erika.
They had never lived in the countryside, so they have had to learn to take care of that nature that gives tranquility and meaning to a philosophy of life. "We have a greenhouse, because the winters here are very cold and it is necessary to continue having vegetables all year round," says Álex as he picks a handful of shiny spinach.
Álex is the couple's handyman, the one in charge of building the cabin (field building) which, in this case, does not keep tools but old printing presses almost a hundred years old. Lakabana.com is a romantic project that combines today's graphic design with yesterday's romantic print. It's the ballroom of Erika's Heidelberg. "I've been into letterpress printing for a long time and wanted to experiment," she says, pointing to an old stand full of movable type. "I found out that the printing press where I was was closing and I got hold of all this."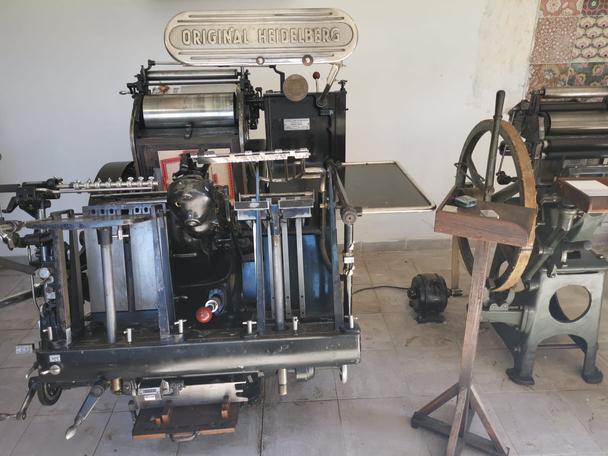 The Heidelberg arrived at the cabin in a boom truck from Zaragoza, on a trip that is also a return to the origins of printing. "We have learned to use it based on trial and error. I had no idea how it worked," she acknowledges. "You can still find printing manuals online. Now that information is global", explains Álex, the maintenance manager: "It has some parts that have to be greased by hand".
It is an impressive impression. "We are based on a palpable design, which can be touched," explains Erika. You get it when you pick up the printout and run it over with your fingertips. The drawing of the leaves of the hundred-year-old fig tree in the garden leaves its precious mark on the paper. "And that is achieved with the Heidelberg. It is a result that has nothing to do with offset printing". It is an impression that leaves a mark.
Erika draws her inspiration from the nature next door, and Heidelberg imprints her poetry in perfect choreography.
CHARACTERS
3 Photos1 / 3
The Heidelberg
02.19.2021
He may be the main character in this story. It is an old printing press about 70 years old. He began working in Barcelona, ​​then in Zaragoza. Before arriving at Erika's house, she was "covered under a blanket" for the last 15 years. She had become obsolete. Today he has a new life in the middle of the field.
RTVE
LANDSCAPE
Erika and Álex live in a border territory, in that strip that separates the province of Huesca from that of Lleida. In fact, Erika is from Tamarite de Litera (Huesca) and Álex is from Alfarrás (Lleida). His house is in the middle ground, between fruit trees on one side and a mountainous profile on the other.
SHOOTING NOTEBOOK
The story of Erika and Álex deserved to be told, for their courage to embark on an adventure in the countryside, in the middle of nowhere. They show that it is possible to create and live from a liberal profession in the rural world. They have enough space to store sizable printing presses and have the courage to get them up and running.