Typical WiFi connection problems and how to solve them
Computación
We have become accustomed so that the wifi is available to listen to music, see our favorite programs and allow us to work from home, that we rarely enter the head that this connection can fail.But it happens, unfortunately.To help you in these situations, we elaborate this guide with the main problems of the WiFi connection and how to solve them.
A loss of connection can be devastating for daily routine, although most problems are easy to solve, so you can connect again quickly.When your wifi falls you can restore access on your own, solving some of the most common problems we explain below.
Low speed or without internet in some rooms of the house
The wifi is definitely radio waves and the router transmits them in all directions from a central location.If your router is in a corner away from your home, you will be emitting a large part of the signal outside it unnecessarily.If possible, move the device to a more centralized location of the house.The closer you can place your router in the center of the coverage area, the better the reception will be throughout the house.
If you have external antennas, you can try to adjust them too.Alternating between totally vertical and totally horizontal positions can help the travel signal in multiple directions.
If you live in an apartment building, foreign routers could be interfering with your signal.In this sense, Netspot free software in Mac and Windows (and Android) or Wifi Analyzer for Android can show you all nearby wireless networks and which channel they are using.If your router crosses with nearby networks in certain rooms, it values to change to a less congested channel.
If none of this improves things that your home is too big for the router.Consider buying a wireless repeater or configuring an old router to serve as a repeater to expand the range of the router.
Slow Internet throughout the house
If the wifi speed is slow regardless of where you are, try to connect a laptop to the router directly and test the internet speed on sites like Speedtest.net.If the speeds are still low, the problem is likely to be in your Internet connection and not with its router.We recommend that you contact your supplier (ISP).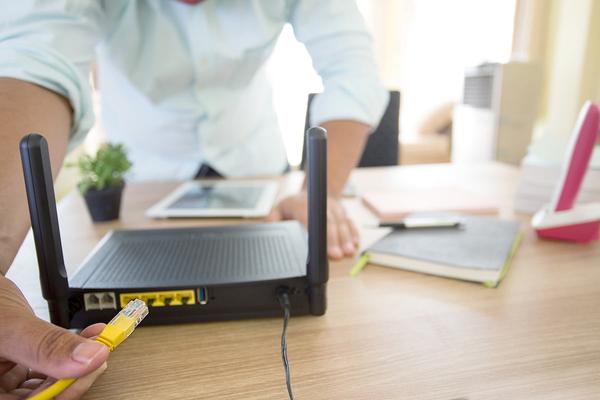 If this is not the problem, it could be that the current wireless channel is saturated by your devices or those of other nearby networks.Consider changing the channel in your router in its configuration.
If this does not improve things, perform factory restoration in your router and configure it again can help.In most routers there is a "restore" button that, when holding it with a clip for 30 seconds, will be restored to the factory default settings.Check our guide to configure a wireless router correctly to see if that helps.
If none of this works and the Internet connection goes well by cable, the router could be in its last hours and you should assess buy a new one: these are the best routers we know.If the router seems well, it could be your modem.
A single device cannot be connected to the wifi network
Sometimes you find a problem with a specific device and probably just a momentary problem.Try to disconnect the wifi on this device and then enable it again;If this does not solve it, do the same with the router: unchanged and then plug it again 30 seconds later.
If things do not improve or the problem happens again, consider eliminating the current network of the list of networks saved on your device and then connect again.
If you are running Windows 10, execute Wi -Fi problems and after identifying and repairs network problems.This will carry out a series of diagnoses that can restore connectivity.In Macos, execute wireless diagnosis: keep the options key and click on the Airport icon (WIFI) in the menu bar.Look for wireless diagnosis and then follow the instructions on the screen.
If none of this works, restart the device.
No device can be connected to the wifi
If you cannot access your WiFi, connect the laptop to the router directly with an Ethernet cable and check if you can connect that way.If it works, it means that the wifi is the problem, but if it does not work it will mean that the Internet can be completely fallen.In that case, contact your ISP.
Resting the router can solve many problems and the impossibility of connecting is one of them.Press the restart button on the back of the router with a paper clip for 30 seconds and the device will return to the factory default settings.If none of this works, you may have to buy a new router.
The connections fall randomly
Does the network fall every time you use the microwave?It may sound strange, but some routers have problems of this type, especially in the frequency of 2.5GHz or if you are using an old microwave with little protection.
It may be that you experience interference from other networks or devices: if your neighbors are intensive wifi users at a given time every day, it could be slowing down.Changing the channel of its router could help and to know you can use Netspot in Mac and Windows and Wifi Analyzer for Android to show you all the nearby wireless networks.If it is yours that overlaps with nearby networks, you can try to change to a less congested channel.
If this does not work, try factory restoration in your router by pressing a paper clip in the hole for the effect.
The wifi network disappears completely
If you lose the Wi -Fi network trail on any device it is possible that your router restarts.Do you find a unprotected network with the name of your router brand?It could be yours.Connect the laptop or desktop computer to the router through an Ethernet cable and start setting everything correctly.
If you do not see such a network, connect your portable computer to the router with an Ethernet and check if you have a connection.Use our guide to find the IP address and login information from your router to get more help.
It connects to the network but there is no Internet access
It may sound to a manido trick but try to restart your modem unplugged and plug again.If this does not work, try to restart the router in the same way, assuming that they are different devices.
Connect a laptop or desktop computer to the router with an Ethernet cable and if there is connection, the router has a problem and it is possible that it should be restarted.If there is still no internet, you may have a cut and should contact your ISP.
Recomendaciones del editor
You can now unlock your iPhone with the mask on
ITEST: The app that turns your iPhone into a samsung
The best series available in Hulu (February 2022)
The best games for Android (February 2022)
Qatar 2022: How to buy tickets and how much do they cost
Google will give up to 24 weeks of paternity permission
What are the best platforms to buy and sell NFT
Unlocks android hidden functions with USSD codes
The best 2022 portable battery chargers
Free online and Spanish courses from US universities.
Domesticate cats caused their brains to shrink
The best printers available in the market in 2022
How to return to Windows 10 after installing Windows 11