Windows 11, analysis: the Windows of the details... of the ignored details
Windows 11 is now available. You can download it for free via Windows Update if you're a Windows 10 user, or you can download the ISO to install from scratch, even on unsupported computers, although this has its clear drawbacks and isn't exactly the best idea.
This server has been using the system since the first day it was released in preview, and after more than three months of finding things both good and bad, I think the bottom line is that this is a good version of Windows and a good successor. of Windows 10, and despite that, it is sadly difficult to fully recommend it in its current state.
The big news
What is new in Windows 11 can be divided into functional or productive changes and aesthetic changes. The list is not short and when you add everything up, it is quite a lot that ends up changing, but the magnitude of the changes is small, and the experience, at the end of the day, is really not far from what Windows 10 offers.
The design is the most obvious and the first thing you'll notice: new taskbar, new Start Menu, new File Explorer, new icons, new notification center, new folder colors, new menus, new Settings app, everything (certain exceptions apply) has rounded edges and looks more "modern".
In Genbeta11 reasons why it is not necessary to upgrade to Windows 11
But while everything is "new" because it looks a bit different, at the feature level not much has changed, and what has changed may be great for some and not for the better for others. However, there are things that Windows 11 does objectively better, and others that, arguably, it does worse.
The new taskbar and the new Start Menu
These two elements are essential when it comes to managing Windows and are one of the ones that have undergone the most changes with Windows 11. For example, the new taskbar has its icons centered automatically, which means that the Start Menu now also appears in center.
Unlike almost all modern versions of Windows, this time you can't move the bar anywhere else, it stays permanently at the bottom. For now the only thing you can choose is to realign the icons to the left from the Settings.
I personally like it, and it was already one of those that focused its icons on Windows 10. But that is the aesthetic, the functional is another story. The taskbar loses functions with Windows 11, it is incomprehensible that now we cannot drag files or applications from the desktop.
The Windows 11 taskbar is one that has changed for the worse, losing useful features in exchange for simply being centered
No more opening a file automatically just by dragging it into the app on the bar. And, all the options that appeared before when you right click are gone, and although some you can get in the Settings, many are conspicuous by their absence, such as being able to add folders to the bar.
In GenbetaWindows 11 is imminent: how to prepare your Windows 10 PC to update without problems or losing files
I find the new Start Menu an attractive change in that everything looks cleaner. I was not a fan of the Windows 10 (and 8.1) Start Menu with its tiles and I much prefer this one. However, it has its limitations since, unlike the one in Windows 10, it does not let you expand it beyond that fixed size.
The options to add folders to the Start Menu are only after several clicks in the Settings
The new Start Menu automatically populates with 18 pinned apps that you can rearrange however you like, either by dragging the icons, adding more (right-click on a shortcut looking for the "pin to start" option) or removing what doesn't interest you.
Beneath the pinned apps you'll find Suggested Files, a can't-modify list of the most recently used items that Windows 11 thinks you might need "at hand."
For some reason I don't understand, the Start Menu has a complete absence of system folders, but it is a feature that exists and is "hidden" in Settings > Personalization > Start > Folders. From there you can pin things like your Documents folder, Downloads, Music, Pictures, Videos and more. These look like a small list of monochrome icons next to your username.
The productivity
Smart layouts are great for organizing windows
With Windows 11 there are a few new and improved productivity tools, but there are also a few strange decisions. A positive is the new "smart layouts", this is basically a level up to window management and organization.
Now when we hover our mouse pointer over the maximize button, we'll see multiple options for stacking windows. It's like an evolved Windows Snap, but now instead of being able to quickly stack windows side by side, top to bottom, or in four quadrants, we have many more options and with different sizes. It's very convenient, especially if you have multiple monitors, or very large and wide screens.
In GenbetaHow to download a final Windows 11 ISO image to install from scratch
Those who connect laptops to external monitors will also appreciate that now with Windows 11 the system remembers your window layout when you disconnect a monitor. That is, if you plug it back in, instead of everything gone to your laptop monitor and you having to re-arrange each window by hand, everything will be organized again as it was before you unplugged the cable.
When you select an image, the new Explorer offers you some options in the menu bar
File Explorer is another somewhat controversial topic because it has changed a lot. The ribbon menu is gone and now we only see a minimalistic toolbar with the most basic options: new, cut, copy, paste, rename, share, send to trash, and sort files or change view.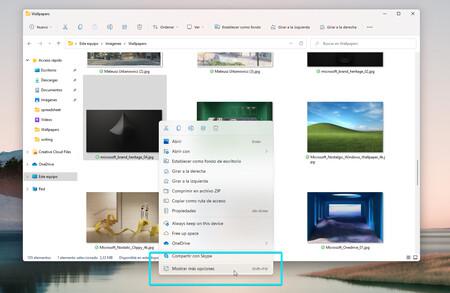 If we open the menu of three horizontal points to look for more options, we will see the same ones that are since Windows 95. And, sorry, but no tabs for the explorer.
In its quest to round the edges of everything and produce a cleaner, more minimalist design, Microsoft has decided that the best option is to remove options.
The side panel remains the same as in Windows 10, with shortcuts, OneDrive, This PC, and Network. The icon vs. detail views remain the same, and the URL and search bar as well. What does change is what happens when you right-click anywhere in the Explorer.
That's where I make the most clicks per day
The right-click menu is another thing that affects our productivity, and with Windows 11 I lose a couple of extra seconds with each click by having to choose "Show more options" countless times a day. In its quest to round the edges of everything and produce a cleaner, more minimalist design, Microsoft has decided that the best option is to remove options.
While it's easy to get used to the new, limited right-click menu, I think having to is, honestly, sheer stupidity.
performance
Using Windows 11 can make Windows 10 feel slower and dated, and for good reason. The obvious one is because it has a new design and it looks "new", but behind that there are changes that make the system go more smoothly. One of those changes is Mica.
While Windows 11 also follows the Fluent design lines of Windows 10, this time around they've switched from the "acrylic material" style to something called "Mica". It is a semi-transparent and blur effect that does things like, for example, the background of the apps is "painted" with the colors of your wallpaper.
In GenbetaAfter two months using Windows 11 now Windows 10 feels slow and outdated
It's quite similar to Windows Vista's Aero, but unlike the infamous performance issues that could cause, with Mica it's the opposite. Not only does the new design not affect performance but it improves it. It is something that you notice in the fluidity when moving, maximizing or minimizing windows, when opening apps and when simply navigating through folders or menus.
If we look only at the numbers, the reality is that Windows 11 does everything a little bit better than Windows 10 PCMark10 Benchmark results on Windows 10 (left) vs Windows 11 (right)
The animations of Windows 11 are also superior, and that also helps that feeling of speed and almost total absence of any type of lag. We have not only measured this sensation in an abstract way, but we have also done benchmark tests comparing the differences between Windows 10 and Windows 11 on the same computer.
The chosen one was PCMark 10 for being one of the best known, complete and focused on productivity for all types of modern operations. The results are a poem: Windows 11 is a little bit better in everything.
With PCMark the higher the number, the better the performance, and those numbers reflect pretty well what Windows 11 is in general terms: an experience a touch better than Windows 10... at least objectively in terms of performance.
Here it seems that there was no time
No matter how much you customize your information sources, widgets in Windows 11 will display whatever they want
There are many other new features in Windows 11 that seem to be halfway there. I have a long list of examples that drive me a little crazy. Widgets, for example, would be a good idea, if we had options. But seeing photos, weather and news that we can't even choose and that take you to the MSN website every time, is just disappointing. Its lack of utility and customization options make it one of those things that hardly anyone will use or remember exists.
The new layout of the notification area is one that wastes space and makes everything look misaligned. The floating calendar has even lost functionality and we can no longer add an event from there. When we click on the network and volume buttons we have a new panel with a lot of potential that also seems to have been left halfway.
Why does everything have to look so out of line? How is this panel better than the previous one?
While we can quickly switch between audio devices or between WiFi networks, we can't do the same with Bluetooth devices, for the latter you have to go to Settings. It is something that has been requested a lot in the Insider forums, and that Microsoft seems to be considering, but not enough for it to be released with the system. As basic as it is.
The default apps are another hot topic for me, I was waiting for the big purge for something better and instead they have not updated me or the calendar. Yes, everything has rounded edges and apps like Photos are substantially better now, but I think it's the only one worth highlighting. Mail, Calculator, Clippings, Calendar, Movies and TV, remain basically the same, and with what little they have always contributed, this is not the best news.
The new Photos viewer is probably one of the few pre-installed apps that have been truly improved with Windows 11.
Clock is another app that has received an upgrade with focus sessions, basically a pomodoro clock integrated with Spotify for productivity lovers. It is a function that I find quite useful and that adds value, what I don't understand is why it was hidden behind the Clock, it is extremely possible that hardly anyone will know of its existence, and having put it there makes the design have lots of wasted space as if someone didn't know how to fill it in and just "left it like that".
In GenbetaAllowing Windows 11 to be installed on unsupported computers is one of the worst "gifts" that Microsoft has given us
Windows 11: Genbeta's opinion
That great attention to detail
Windows 11 is a huge wasted opportunity and this is due to the way Microsoft decided to advertise the system and release it. During the official presentation Panos Panay said that they had paid as much attention to detail as possible, and now with the launch announcement they speak of the "beginning of the new PC era". To that I can only answer: let's calm down.
If Windows 11 wants to be judged on attention to detail, I'll give it zero. The new system has many great things, one of my favorites is probably inconsequential for most users: customization. Windows 11 lets you mix colors and backgrounds like never before, has a better dark theme, and each virtual desktop can have its own background. Very nice everything, until you see the cracks.
The details are the least careful in Windows 11, with a couple of clicks where "you shouldn't" the File Explorer suffers a regression to the past. The new icons aren't complete (the Xbox ones suck), the rounded edges still don't stretch throughout the system, and the volume indicator that appears when you press the media key is the same as in Windows 8.
We still have apps from the old era like Notepad whose modernization was promised but didn't come with the release of Windows 11. These are small details, but when you insist that you pay attention to detail and these things happen, you have to take the criticism. .
The new Microsoft Store already smells better than Windows 10, with more apps and open to developers uploading even classic Win32 programs. But it has been thrown into the water without fulfilling its most interesting promise during the announcement: those Android apps with native support.
Yes, it's faster now, it has a better design and a little more apps, but it's not really something that you consider using it instead of the usual method: download an .exe program from somewhere else and install it in next, next, yourself .
The bar was already pretty low when it came to improving the Microsoft Store
The announcement speaks of a new era while leaving behind scores of users with modern and powerful hardware, or what seems to be more than half of company computers. It doesn't look like Windows 11 is going to do Windows market share any favors, one that has been steadily plummeting in recent years.
Windows 11 is not a revolution of Windows, neither in functions nor in design, much less in attention to detail
Unless you like what's new just because it's new, and you're very keen on always having the latest version of everything, there really are plenty of reasons why you don't need to upgrade to Windows 11 (for now). It's not a Windows revolution, not in features or design, let alone attention to detail. It's a Windows with a lot of potential that could have had a significantly better launch if you waited longer, no one was asking for a Windows 11 and probably almost no one needs it because it's just not going to change your life with its little improvements.
It is a very different story from what it was like to go from Windows 8/8.1 to Windows 10, a recommendation that I did not hesitate to give at the time. Windows 10, despite its history of problems, was an easy decision and one that made the experience that much better. I'm pretty sure Windows 11 could have been something like this or better, if only it had had more time to mature. Instead, they have decided to ignore lots of details so that it would appear on October 5 without fail.